Scuba Ocean Odyssey VR
A downloadable game for Windows
Dive into the ocean as Scuba - an underwater research submersible who is tasked to collect garbage in the deep waters - and discover fact bubbles about plastic pollution scattered throughout the reef. Playable on the Oculus Rift and Oculus Rift S.
What to expect
Swim freely and explore the ocean through coral reefs, schools of fishes, dolphins, seahorses, jellyfishes and plastic waste
Relax in the soothing and mesmerizing underwater ambiance
Have fun collecting plastic debris and blasting clumps of garbage chunks caught in fishing rope
Scuba's Ocean Odyssey VR is an immersive experience that aims to spread awareness around plastic pollution in the oceans. The game is designed to encourage playful engagement while learning about the crisis in the ocean.
The Story of Scuba the Submersible
Scuba is a sentient AI submersible who has been tasked to clean the ocean floor. Scuba recycles plastic waste at his underwater recycling Hub, which generates energy to recharge the little robot.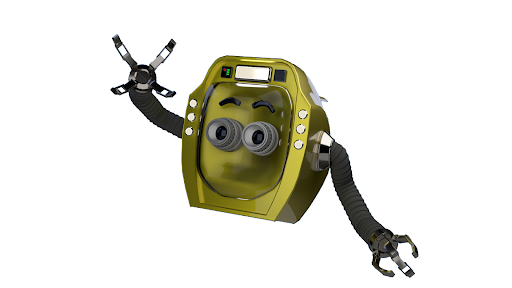 One day, Big Business ships pass by dropping more garbage into the reef. Scuba begins to wonder where the ships come from. He tries to follow them, but is overwhelmed by the garbage in his way. Thus begins Scuba's odyssey - to find the source of the garbage. Little does he know - the journey will also reveal Scuba's own origin and who programmed him there to clean the ocean.
Scope and Scale - What's next for the game?
The current version is a prototype. It is the minimum viable product with all the key mechanics completed. But this is not the end for what this game could be.
This prototype can be scaled to expand the explorable map and create more maps as Scuba continues his pursuit of Big Business ships through the ocean. More events can be added throughout the map to push the narrative and learning opportunities (egs. saving a turtle caught in a fishing net, helping a dying whale, scavenging materials from a sunken ship, etc). The mechanics can also be refined further to have better user interface and more tutorials. See all the possible maps below: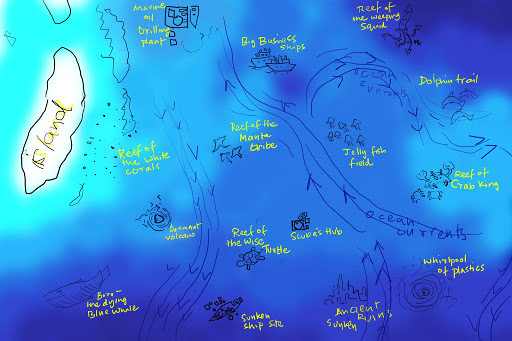 Since this game aims to educate and bring awareness, the VR experience is designed to feel relaxing rather than alarming (which can often be the tone for environmental crises). To foster awareness, developing the mental state first is primary, which will then lend itself to having an open mind about the real world issue as well.
That being said, there is still much potential to be explored. So keep a look out for more updates in the future!
For more info about the game developer, see www.beingsounak.com/scuba-vr
Download
Click download now to get access to the following files:
ScubaOceanOdysseyVR.zip
383 MB